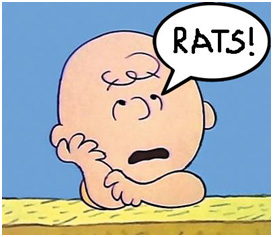 As Charlie Brown would say, "Rats!"  Now we have to go back to just voting against the nightmare of Hillary.
Conservative pundit John Podhoretz summed it up: "Trump's Debate Incompetence a Slap in the Face to His Supporters."
The best editorial page in the country, that of Investors Business Daily, put it this way, "Trump and Clinton Debated, But It's the Nation that Lost."
And what's with all the whining on the right about Lester Holt being pathologically biased?  Of course he was – and the sun rises in the east.  Trump was surprised by this?  He let some hack Clintonista moderator take charge of the debate and steamroller him? 
After the debate, Trump tweeted how it was an outrage that Holt didn't ask about the Clinton Foundation or Benghazi.  Say what?? It's Politics 101 that if you're asked a question you don't want by some schmuck reporter, you give the answer to the question you do want. 
It's Trump's fault, not Holt's, that there was no discussion of Benghazi, of Syria, of Obamacare, of the Clinton Foundation, of immigration, of the four recent acts of Moslem terror, of the rioting in Charlotte and Hillary's effective endorsement of the rioters.
His new nickname should be "Holding Back" Trump.  Last night (9/27) in Orlando, he claimed he was "holding back" because he didn't want to "embarrass" Mrs. Clinton.  Anyone who believes that should be easy to sell a bridge to.  Is there a Trump supporter on earth who wanted to see him "hold back" in the Monday night debate and not embarrass her to the moon?