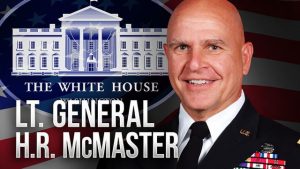 In a snarky tweet Sunday (2/19), Bill Kristol asked of conservatives who are "rationalizing" Donald Trump's presidency: "In your heart, don't you know you're wrong?"
"Actually, Bill, some of us think there is more to the man than his outlandish comments, e.g. his cabinet, his regulatory moves, legislative agenda," responded Brit Hume, the best news anchor in my lifetime.
Amen, Brit.  I've been blown away by what he's done since winning the election.
Trump has accomplished more in the first month of his presidency than any president since Ronald Reagan. John Hawkins lists here his most significant achievements. They are all the more impressive because of the unprecedented obstruction he's had to overcome.
Trump's latest McMaster stroke came Monday (2/20), when he chose Lieutenant General H.R. McMaster to be his National Security Adviser.
McMaster will have the right to choose his own staff, proof The Donald can learn from his mistakes, grow in office. I love lemonade. There's no better lemonade than Trump lemonade.