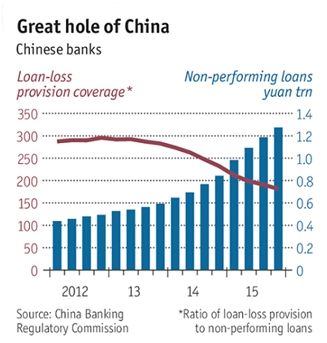 China's central bank is running out of ways to stem capital flight and faces a near impossible task trying to manage the fall-out from extreme credit growth, two of Asia's most influential banks have warned.
"Defense of the currency by the People's Bank (PBOC) is no longer a viable option," says Eric Robertson, the head of global macro strategy for Standard Chartered.
Standard Chartered has been in the China since the 1850s and has over 6,000 staff in the country. Its warnings should not be taken lightly.
The Asia-focused lender says powerful forces are driving capital out of the country and the picture is fundamentally more disturbing than it was during last year's devaluation panic. This is putting the PBOC in an invidious position as it attempts to deal with festering troubles in the banking system.
While the PBOC still has $3 trillion of foreign exchange reserves, they are not as large as they look given the scale of the financial pressures and the structure of the Chinese economy. The ratio of the M2 money supply to reserves has collapsed to a 15-year low and this may prove to be the crucial ratio in a confidence crisis.