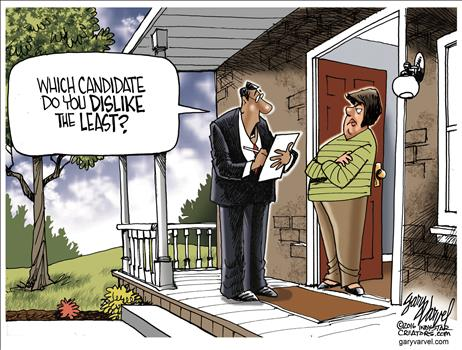 Democrats should unite against "prattling demagogue" Donald Trump, who is "a lightning rod for the politically disenfranchised and marginalized who trust in nothing but their misplaced biases," Rob Biller wrote in a letter to the Pittsburgh Post-Gazette May 19.
I've a newsflash for Mr. Biller: Democrats who voted for Hillary Clinton in the primaries are neither smarter nor more moral than the bigots, thugs, morons and gullible fools who voted for Trump in the Republican primaries.
It's difficult to imagine how anyone could be less qualified to be president of the United States than Donald Trump.  But he's not the one who more than 100 FBI agents are investigating for multiple security violations and public corruption.
Hillary has been a national figure for a quarter century…which makes it all the more remarkable that her public record is devoid of anything resembling accomplishment.
It's difficult to lie more often than Donald Trump, but Hillary trumps him (can't resist the pun). The "mainstream" media have  downplayed evidence of Hillary's wrongdoing, and her lies about it. But in the wake of the damning State IG report issued yesterday (5/25), that's changing.  Fast.