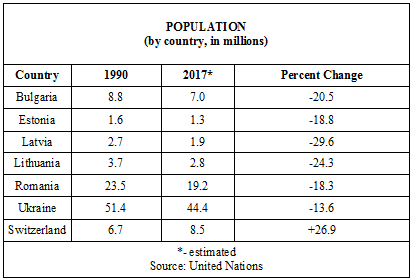 Vilnius, Lithuania.  It is hard to succeed if everyone is leaving. Some of the former communist countries are suffering from a population death spiral, with double-digit population declines over the last 25 years, as can be seen in the chart.
The problem is not only that people are leaving these countries, but all too often it is the most productive who are leaving -- i.e., young adults. Those who are the least mobile -- the unskilled, those with physical or mental disabilities and the elderly -- i.e., the dependent class are staying.
Latvia has lost almost a third of its population since it regained its independence in 1992. This would be equivalent to the United States losing approximately 100 million people. Other former communist countries have also lost major portions of their populations. The population loss is not only a result of emigration, but also very low birth rates (well below replacement).
As noted, as taxes on employment are raised, it both discourages work and drives people to places where the real after-tax wage is higher. But the real job-killer is not income taxes, it's….