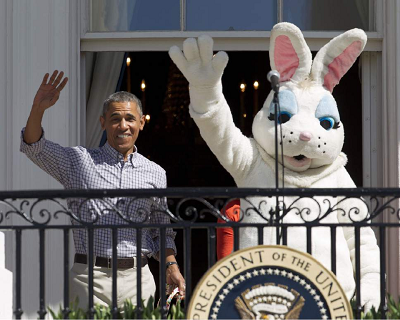 In these tweets early Saturday (3/4), President Trump declared nuclear war on former President Obama.
"Just found out that Obama had my 'wires tapped' in Trump Tower," the president said. "This is Nixon/Watergate.
It isn't true, and he deserved it, said "senior intelligence officials" and Democrats. CNN and MSNBC anchors who breathlessly reported both didn't seem to notice these claims are mutually contradictory.
Louise Mensch of HeatStreet reported last October a FISA (Foreign Intelligence Surveillance Act) warrant had been issued for a server in Trump Tower. The Guardian reported it Jan. 11. Former U.S. Attorney Andy McCarthy commented on it that day.
Mr. Obama didn't know about the FISA warrant, said spokesmen Kevin Lewis and Ben Rhodes.
Do you think the FBI would eavesdrop on the Trump campaign without informing the president? Do you believe in Santa Claus and the Easter Bunny?