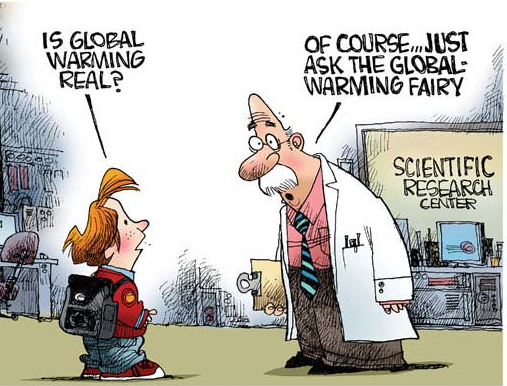 No one knows what is going to happen 100 years from now — what problems human beings will face and what advances they'll make.
Are you willing to double your electrical bill now — to European rates — to reduce global temperatures by two-tenths of 1 degree 100 years from now?
Are you aware that England has only been an island for about 9,000 years or so? Up until the end of the last ice age, our ancestors could walk from France — which they can, in theory, again do, thanks to the Chunnel.  Back then, the English Channel was a river, with the Thames in England, the Seine in France, and the Rhine in Germany its tributaries.
A hundred years ago, air conditioning was almost non-existent. Now we have huge, rich cities such as Singapore, Panama City and even Miami, thriving in the tropics, because air conditioning has made them very livable all year around.
A hundred years ago, antibiotics had not been invented, nor had the semiconductor, let alone the smartphone and iPad.
At the present, we do not know how to cost-effectively reduce many carbon-dioxide emissions, but we do know how to adapt to slowly rising sea levels and slightly warmer temperatures. Sea levels have been rising since the end of the last ice age, with no evidence that this rate of rise has increased during the past half-century — and mankind has adapted just fine.
Despite rising sea levels, the island of Manhattan has grown in size over the last four centuries — because it makes economic sense to create landfills.
It is odd that many in the media and "public intellectuals" call people "climate deniers" who merely want to have a civil discussion about the rate of climate change and how much is caused by man — while, at the same time, being in deep denial about the real costs, particularly to the poor, of many of their proposed solutions.