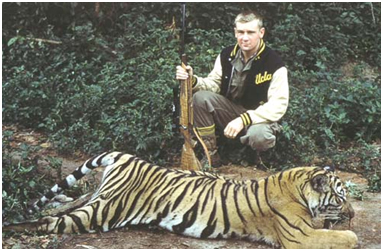 Imagine the hysteria if I had shot this man-eating tiger today instead of 54 years ago.
In TTP yesterday (7/30), Ben Shapiro skewered the pathology of those who hate hunters more than monsters like the dictator of Zimbabwe, Robert Mugabe, responsible for the deaths of countless human beings in his country, or the proto-hominids of Planned Parenthood.
Also yesterday, the Center for Medical Progress released its latest video. The Daily Caller has a description of it that could make you throw up.
It is more than ironic that the lion whose death has caused paroxysms of outrage was named Cecil, while the president of Planned Parenthood is named Cecile. Cecil vs. Cecile…
Last Saturday (7/25), something very appropriate happened to Zero. The president of another country told him to get lost to his face in front of the entire world…
There are at least three candidates for HFR Hero of the Week…
We'll close with a dyad of good news.