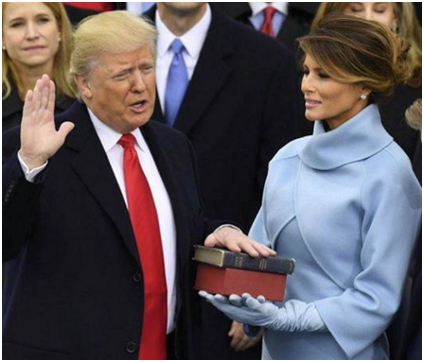 Finally the day has come.  Deliverance Day, the end of the Nightmare of Zero.  A new dawn for America with more freedom, more prosperity, and more moral normalcy of traditional values. 
It is a day to celebrate with joy and exuberance.  Yet it is far deeper than that.  You may be like me, experiencing emotions hard to describe or contain. 
Watching Trump speak at the Lincoln Memorial last night, seeing him and his family in front of the giant statue of Lincoln as a chorus of Marines sang the Battle Hymn of the Republic while fireworks exploded over the Reflecting Pool of the Mall – frankly, it made me cry and shiver with goosebumps.
What is happening before our eyes is a true historical moment.  The throngs of people massed at the Inauguration Eve celebration last night knew it.  They were hugely happy – calling out "We love you!" to Trump – and at the same time there was a solemnity to their happiness. 
What they were feeling was far more than what revelers at, say, Times Square feel celebrating the Ball Drop on New Years Eve.  They knew they were witnessing and participating in the rebirth, indeed possibly the salvation, of their country.  They were experiencing an overwhelming sense of awesomeness that was palpable among them  It certainly was what I felt.
As this day unfolds, it may be as hard for you to contain these feelings as it is for me.  Savor the moment of this extraordinary day, January 20, 2017.  It is a day you will never forget.