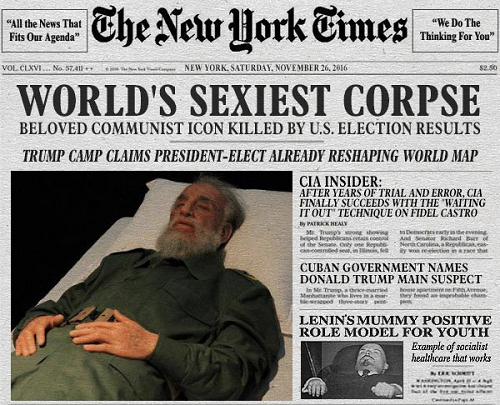 Last Friday (11/25) at age 90, Fidel Castro finally croaked.  Cuban-Americans danced in the streets of Miami.  Liberals mourned.  A mystery I've found puzzling for almost 60 years rose again to confront me.
When I was 14 years old in 1958, my father was able to take my family to Moscow on a filming assignment.  We went to Lenin's Tomb, where a huge line of Russians waited their turn to enter and see the corpses of Lenin and Stalin encased in glass displays. 
We went to the front of the line, as "foreign guests."  Everyone from the guards to the people in line were so reverential, as if this were a holy, sacred place.  There was complete silence as we entered the tomb with a number of Russians and proceeded between the two bodies under glass, nobody making the slightest sound.  It was impossibly creepy.
It was also hard for me not to laugh.  All over Moscow we had seen huge statues of Lenin and Stalin, making them look like giants towering above the rest of us mere pygmies.  Yet I had learned in the research I'd done back home that they were not much taller than midgets – Lenin was five-foot-one, while Stalin was under five-four.
What really got to me was all the pretending that these two monsters were moral giants.  What would the world think of Germans flocking to the tomb of Hitler, with Hitler's body on display under glass and worshipped? 
I was only 14, yet I knew that these men had murdered millions, that they were among the most evil men who had ever lived, that they were moral equivalents of Hitler.  The reverential silence, the worship of evil, displayed by these Russians all around me as we slowly shuffled past their corpses was terrifying and mysterious.  Suddenly, I didn't want to laugh.
When we came out again onto Red Square, I felt overwhelmed by a question:  Why would people worship evil?