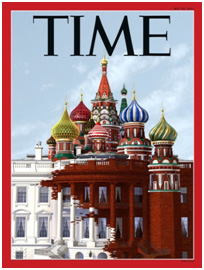 The current cover of TIME Magazine, issued yesterday, May 18, is the Lying Swine media's ultimate descent into Fake News Lunacy.
It brings to mind the old question of whether a witch doctor actually believes in the delusions he's dispensing to his primitive devotees, or is he aware of his being a voodoo con man?
If the former, then the witch doctors at TIME, the Slimes, WaPo, ABC-CBS-CNN-NBC-AP are becoming literally and clinically deranged with psychotic hate for the President of the United States.
If the latter, then they should be regarded with disgust as AINOs – Americans In Name Only – who either just don't care about the incalculable damage their delusions will cause to their country, or maliciously want to cause the damage.
Whichever of these options is the case, you and I and all patriots have only one option.  Although Jack Kelly this morning (5/19) and I yesterday (5/18) stated it, that option was made most brilliantly clear by Newt Gingrich last evening…
It's a full HFR this week, with in-depth analysis of what's really going on, a quartet of fun good news, and a HFR Hero of the Week that may be a real surprise the recipient.  Buckle your seat belts, we're off…