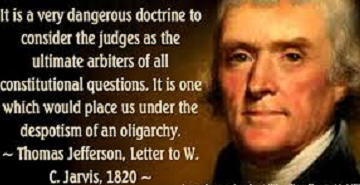 Yesterday (6/12), the Ninth Circuit, on the basis of a Trump tweet, blocked the President's travel ban.
When President Trump tweeted that his measure to protect Americans from Islamic terror was a "travel ban" and that it should never have been watered down, he was right.
Maybe the Supreme Court will uphold the Constitution. Maybe it won't. The track record has been decidedly mixed. And this is an area where the courts had no actual right to intervene.
Immigration is in the hands of Congress and the White House. It is not up to judges to decide who can come to America.  If this judicial coup succeeds, elected officials will lose their authority over immigration.  That means that the American people will lose all control over immigration.
Federal courts have been unconstitutionally treating states like this for far too long, intervening in everything from elections to prison populations, but now they're using the general anti-Trump hysteria to assert judicial supremacy over the elected branches of government.
If this judicial coup is allowed to stand, anything that any White House official or member of Congress says at any time in the past, can and will be used by Federal courts to seize control over any policy.  And then we will be living under a permanent reign of judicial terror.