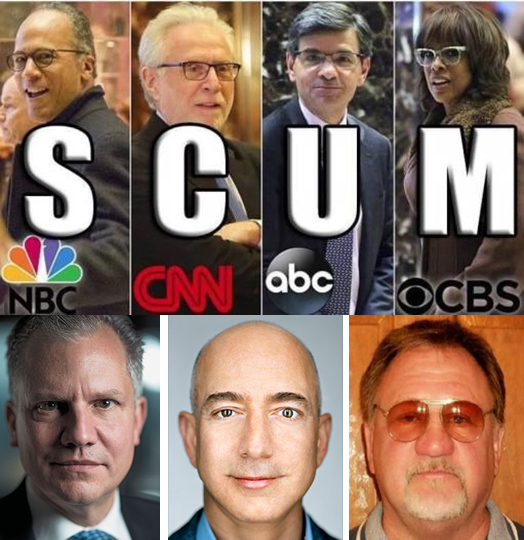 Let's be crystal clear on this:  the people above are directly responsible for the murder attempt on Republicans in Congress yesterday. 
And not just the network talking airheads such as those pictured above, but the publisher of the New York Times, Arthur Ochs Sulzberger Jr., the owner of the Washington Post, Jeff Bezos, and the actual shooter they deranged, James Hodgkinson. 
They have Steve Scalise's blood on their hands.  Just as they have Trump's fake blood of Kathy Griffin's and Shakespeare on the Park's.
Let's focus on The Scum Flagship.  The New York Slimes continues to sponsor the Trump Assassination Play that pretends to be about Julius Caesar, ending with the actor portraying Trump lying dead in a pool of blood.
To The Point calls upon Trump supporters in Manhattan to stage a portrayal of Arthur Sulzberger as Julius Caesar bloodily knifed to death by Caesar's assassins – at the entrance to the NYT Building at 620 Eighth Avenue.  They should then send a bill to NYC's Communist Mayor Bill de Blasio demanding to be paid for their artistry as he does The Public Theatre to the tune of 1 million taxpayer dollars a year.