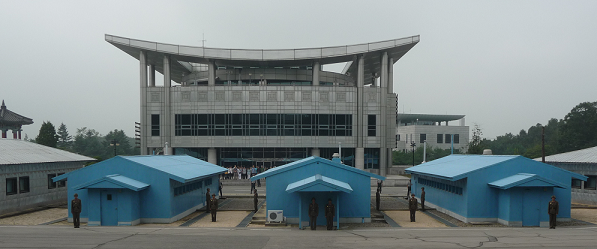 Ereyesterday on Monday (4/17), Vice-President Mike Pence was here at the Panmunjom border between North and South Korea.  But this is a view the Silver Fox never saw.  For it is from the North Korean side.   I took this picture in 2010.
Many of you know I have been all over North Korea three times (twice more in 2012).  The article to read, for lots of photos and the real history as contrasted with the mythic of the most insane country on earth, is Pelosi in Pyongyang (September 2010, which I had to write under a pseudonym as I was under surveillance in Beijing).
There's no more insane border on earth than what you're looking at above.  The border runs through the middle of these three blue negotiation huts in the center of what's known as the Joint Security Area.  You cannot believe how tense the atmosphere here is. 
But let's take a close look at something that's hilarious.  We're going to focus on those two Nork soldiers guarding the entrance to the main negotiation hut in the center – and on what's next to them.
Then we're going to analyze in detail the actual threat of North Korea, and how to end it.